Advantages of easyPhaco®
easyPhaco technology developed for safe and efficient emulsification
Fragment followability and holdability thanks to Oertli's fluidics concept
U/S energy absorbed by the occluded fragments
Smooth fragment aspiration without clogging
Stable anterior chamber
Available from 1.6 mm up to 2.8 mm incision
Oertli data on file
Performance and result depend individually on the user
easyPhaco – Fluidics based on physics
The easyPhaco technology has been developed for safe and efficient phacoemulsification. Thanks to Oertli's unique fluidic concept, easyPhaco allows a direct fragment followability and provides a strong fragment holdability. The occluded fragments absorb the U/S energy and are then aspirated efficiently without clogging. The seven times higher infusion capacity allows a constant intraocular pressure for a stable anterior chamber. easyPhaco is available for incisions from 1.6 mm to 2.8 mm.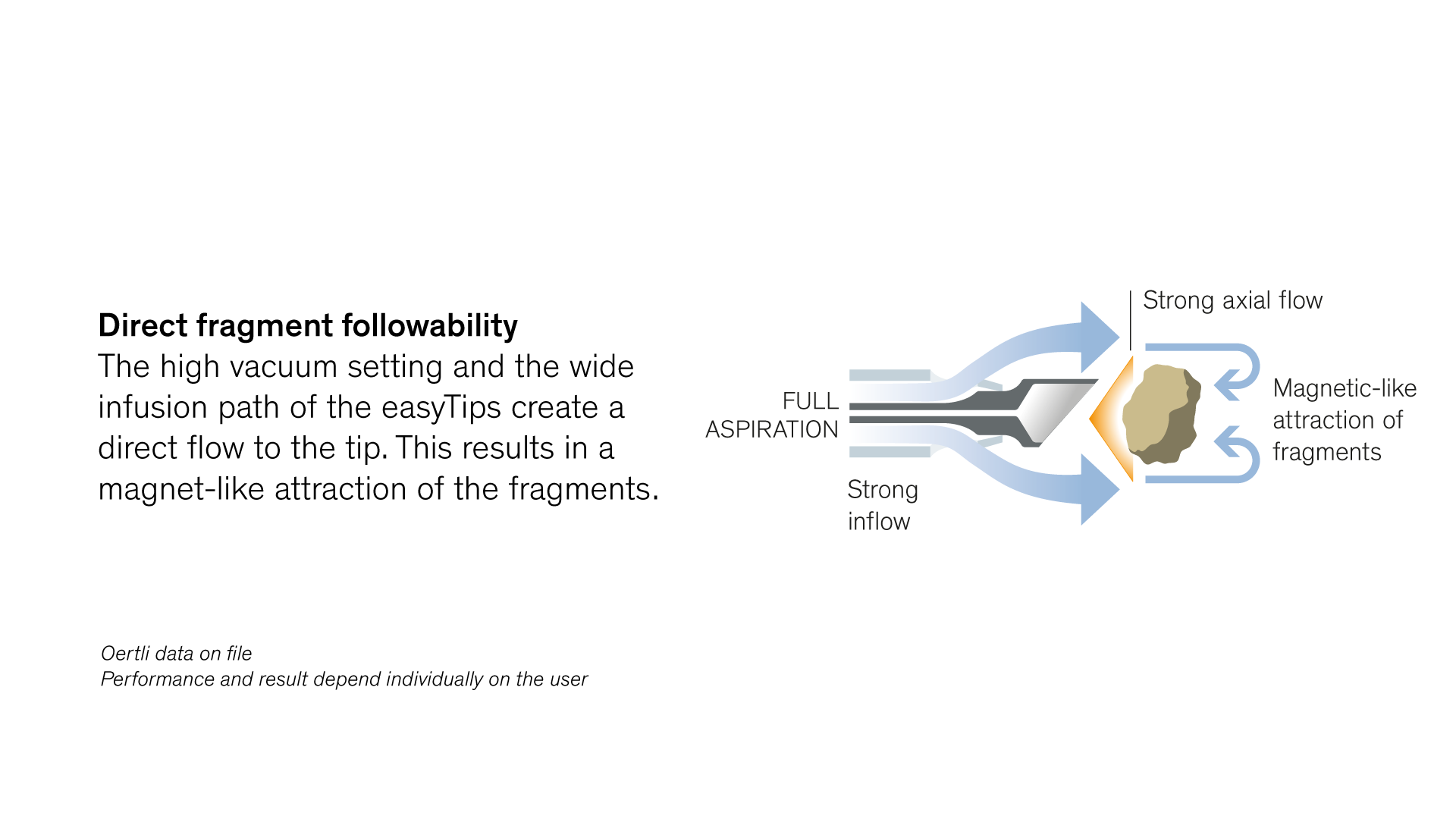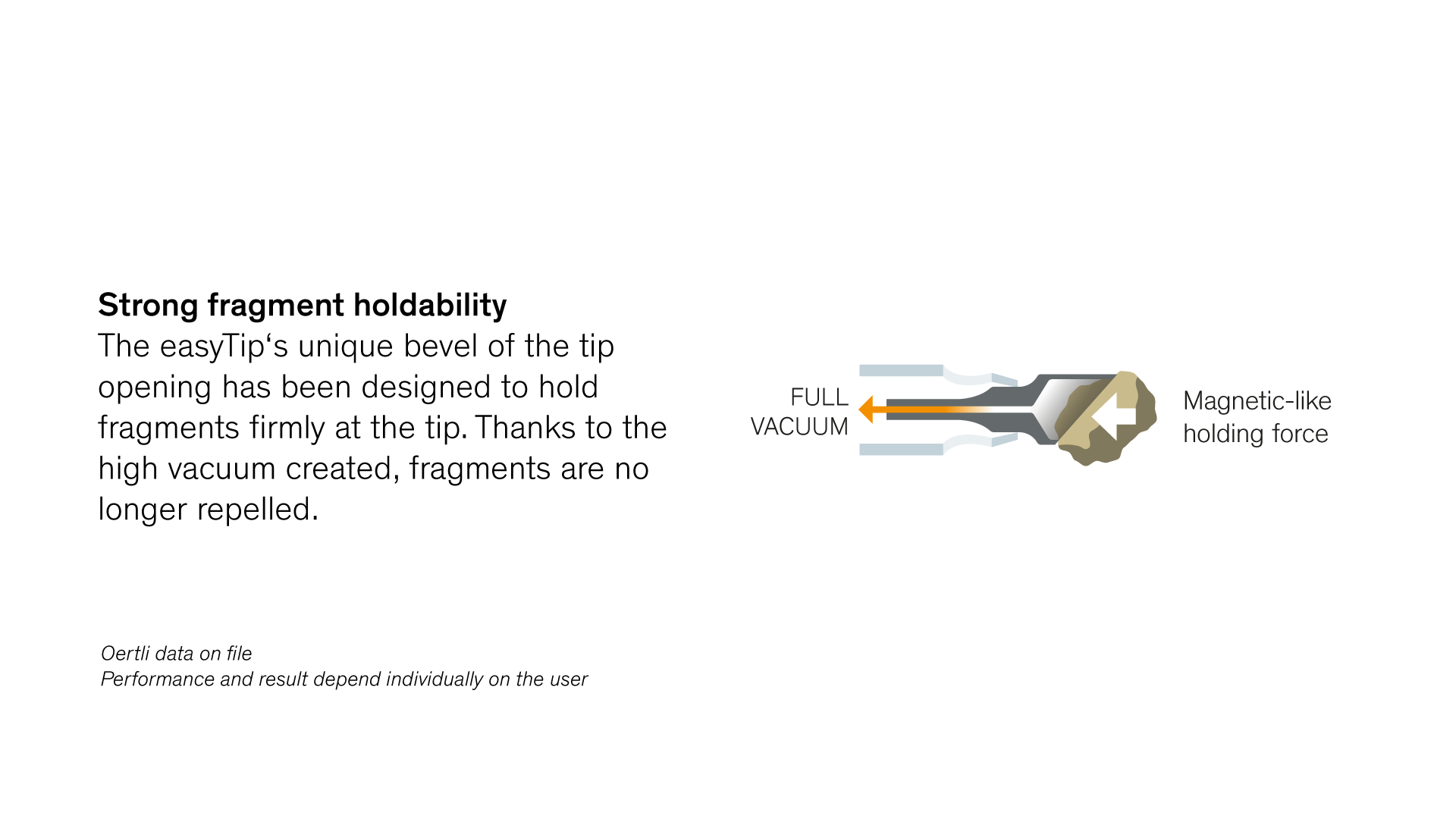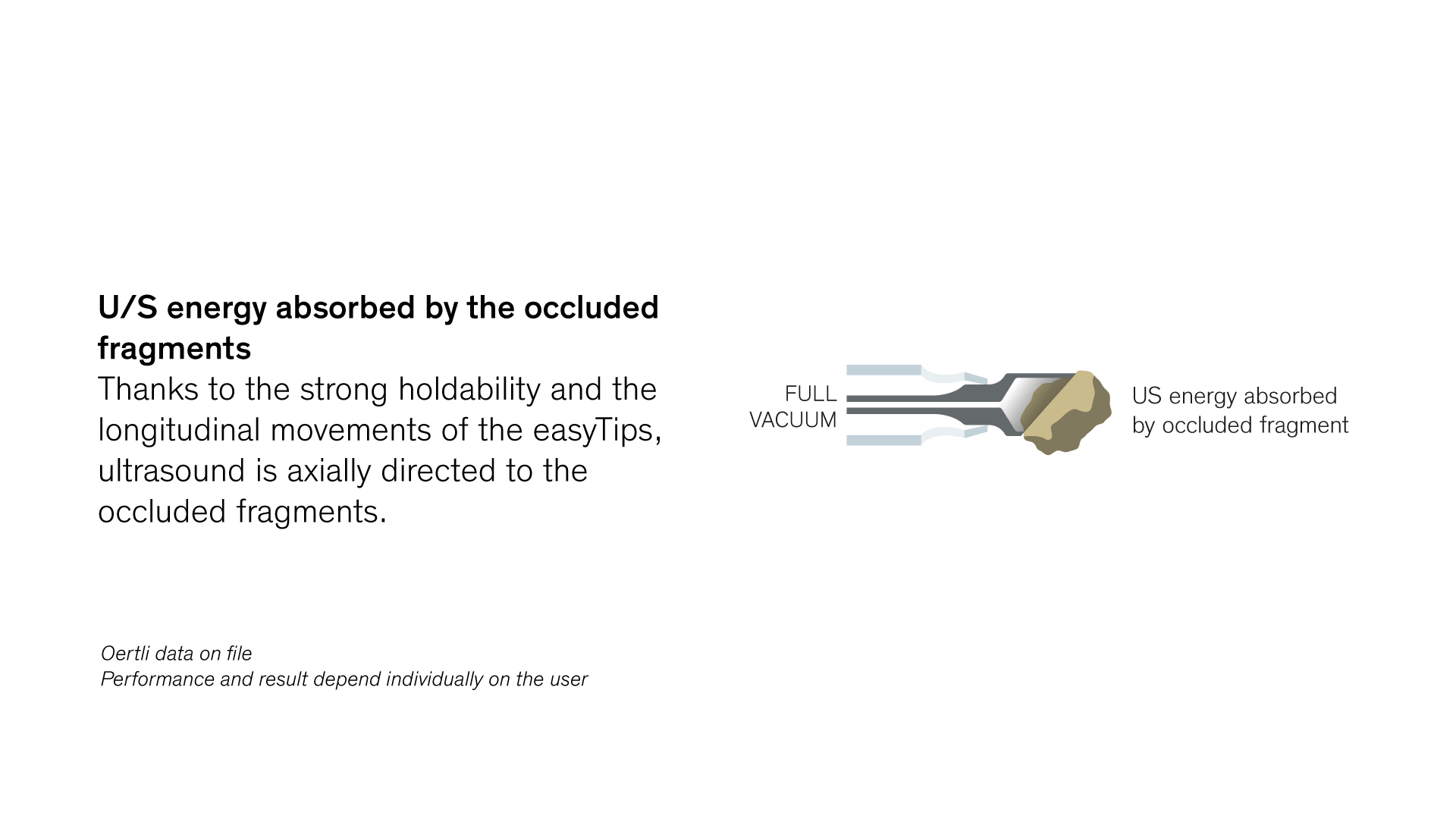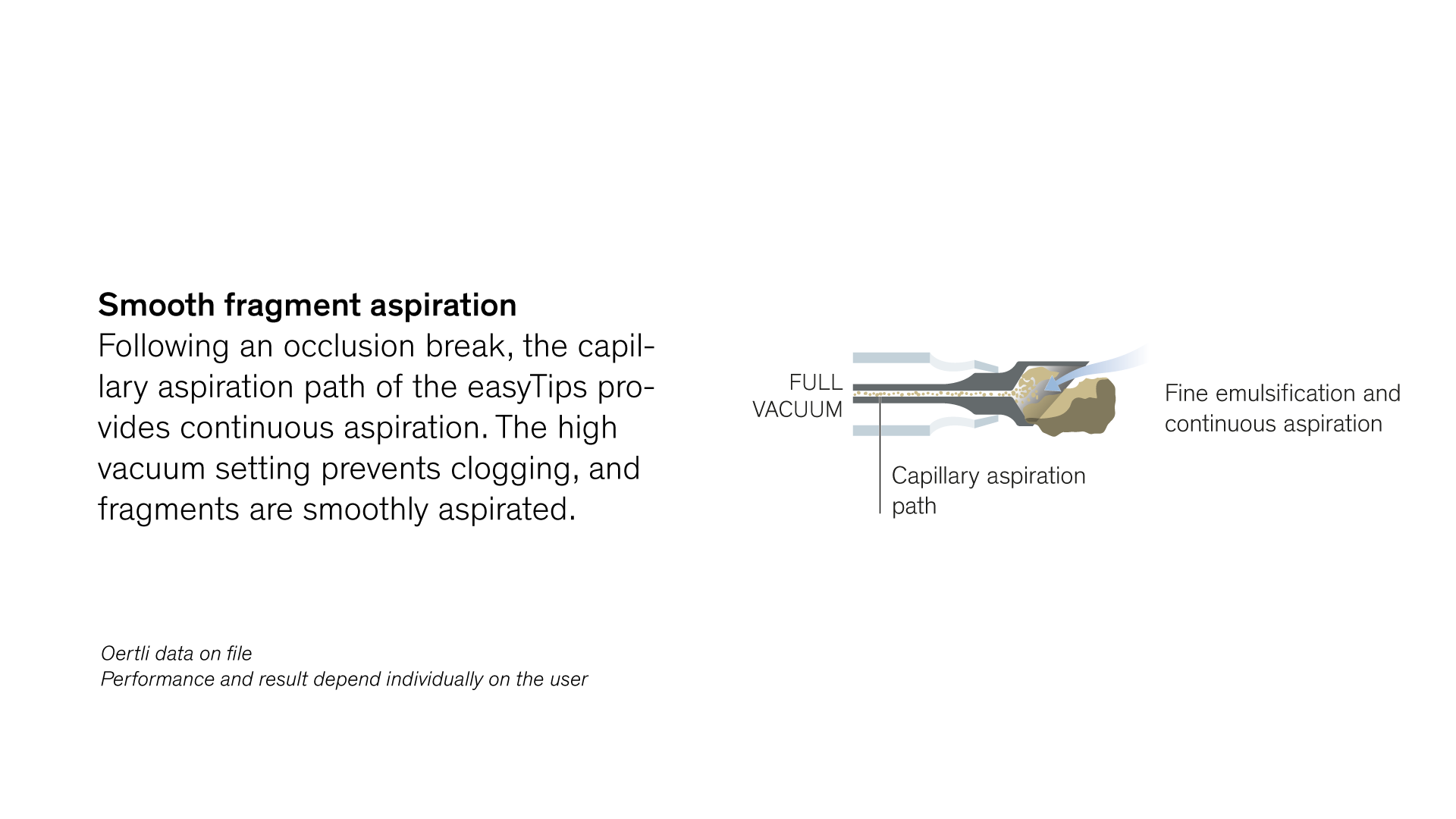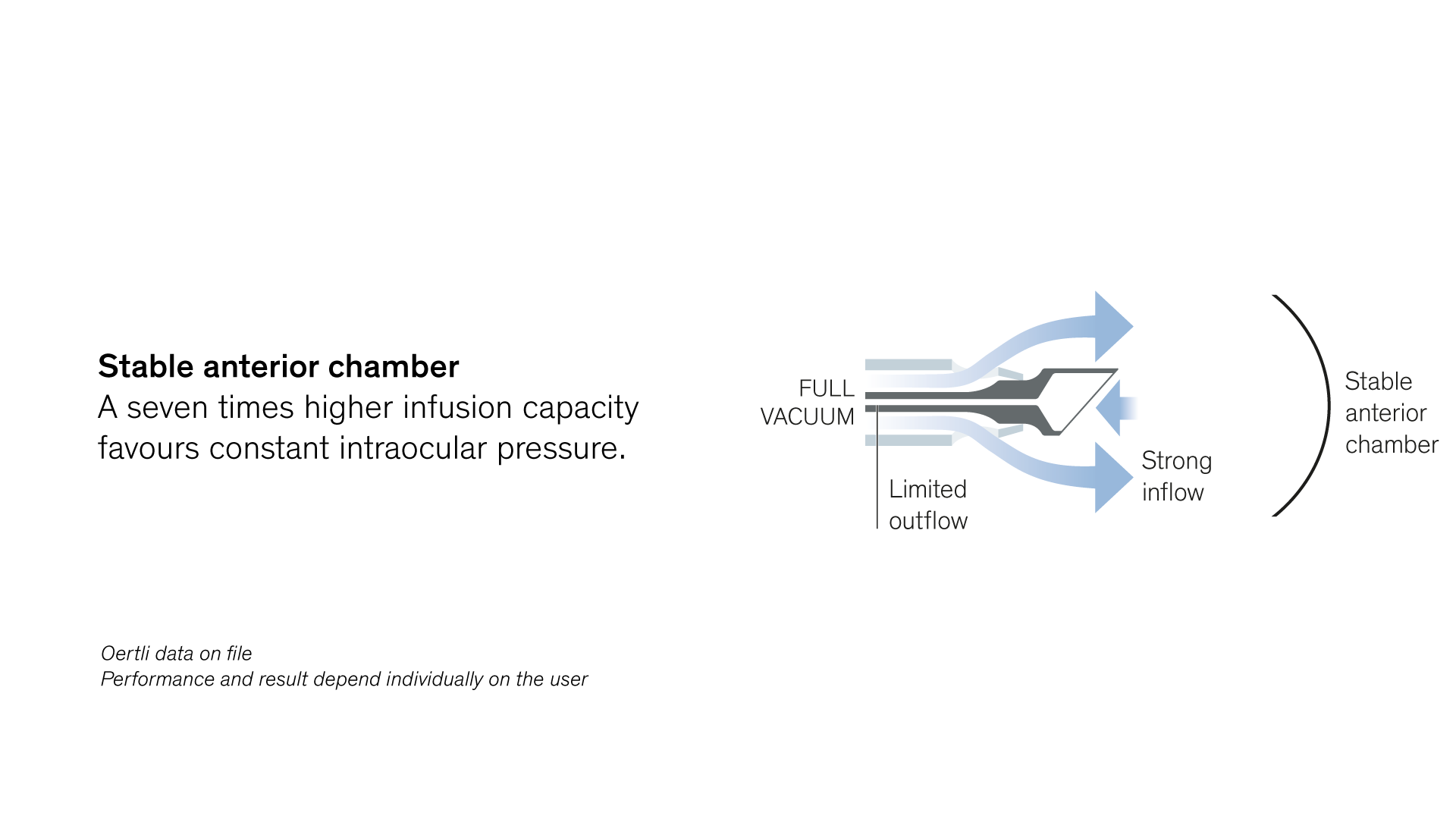 How does easyPhaco work in practical use?
New easyPhaco® handpiece
Having an outside diameter of 13 mm, an internal infusion tube, being extremely light weight (42 grams) and completely made of titanium, the Oertli easyPhaco handpiece has set the standards since 2002. The handpiece, which is equipped with 6 piezo crystals, is ideally suited for easyPhaco technology and MICS. The flexible cable and the grip of the five rubber rings on the handpiece support the user's comfort.
more about the easyPhaco handpiece
easyTips
The easyTip's unique bevel of the tip opening has been designed to hold fragments firmly at the tip. Thanks to the high vacuum created, fragments are no longer repelled. The single use easyTips come along with an irrigation sleeve, a test chamber, a phaco and an emergency key. The easyTip product range offers six different tips. From CO-MICS up to 3.2 mm incisions.
more about the easyTips product range
Watch the experiences of two experts
Fluidics in Cataract Surgery - safe and efficient phaco
Arnd Garndorfer, MD
MVZ Memmingen, Germany
Duration: 105s
Management of Hard Nucleus
Suhas Haldipurkar, MD
Laxmi Eye Institute, India
Duration: 150s
MAKING THE DIFFERENCE WITH STRONG CONFIDENCE

«Until now I have strong confidence in the Oertli phaco machine regarding the power, holding strength and anterior chamber stability. The six-piezzo phaco handpiece remains cold throughout the procedure. This machine is portable, lightweight and versatile for use in mass eye-camp cataract surgery and performs well at any site.»

Dr. Vidyapati Mangunkusumo

Jakarta Eye Center, Menteng, Jakarta, Indonesia

MAKING THE DIFFERENCE WITH EXTREME SAFETY

«We have been using CataRhex 3, Faros and OS 4. They are all wonderful machines giving us confidence that they will go through hardest of cataracts with extreme safety. They also make life easier while performing posterior segment surgeries. They are easy to maintain and the reliability factor is very high. What more can a surgeon ask for.»

Dr. Khurram A. Mirza

Hameed Latif Hospital, Lahore, Pakistan

MAKING THE DIFFERENCE WITH CONSISTENT STABILITY

«I have been using the CataRhex 3 for the past years in most of my cataract cases. I found it satisfactory and I am really happy with the effectiveness in all kinds of cataracts. Stable, reliable and effective.»

Dr. Ayman Mdanat

Ammon Eye Center, Amman, Jordan

MAKING THE DIFFERENCE WITH REMARKABLE CHAMBER STABILITY

«After using the CataRhex 3 for more than 5000 cataract cases, my opinion is: the anterior chamber is really stable, can be used for any grade of cataract, safe for cornea endothetial, faster visual recovery, and very ideal for World Vision 2020 program. Moreover, the consumables and the maintenance of the machine are economical. It's a truly mobile phaco machine.»

Dr. Rezaldi Pratama

Ichsan Medical Centre Hospital Bintaro, Tangerang Selatan, Indonesia

MAKING THE DIFFERENCE WITH IMPRESSIVE SIMPLICITY

«As running three different OR teams, I need CataRhex 3 platforms, that all my teams can easily and efficiently rely on. Still what impresses me the most, is using the Oertli easyTip. Specially, in stony hard cataract cases what we handle in Upper Egypt.»

Dr. Lotfy Girgis Abdalla Eshak

Sohag Teaching Hospital, Sohag, Egypt
Read some scientific publications about the easyPhaco technology
easyTip product range
Learn more about the easyTip product range.
Watch our surgery videos
A fully prepared library with surgery videos awaits you.
Cataract surgery
Explore our innovative solutions also for HF capsulotomy and I/A Quick Tips.