HFDS DryLab Kit
The HFDS DryLab Kit offers new possibilities to demonstrate our proven HFDS glaucoma technique in a new and even simpler way. With this compact, mobile and flexible training tool, we provide a more impactful first introduction into HFDS than ever before. It offers all you need for a successful first demonstration and training of HFDS. The HFDS DryLab KIT comes with:
Reusable artificial HFDS eyes (divided into 4 quadrants) with tiltable holder
Integrated USB camera for live stream on your notebook
Relevant accessories to perform HFDS as gonioscopic lens, viscoelastics and more
Reusable HFDS Glaucoma tip with its diathermy handpiece
DryLab KIT instructional video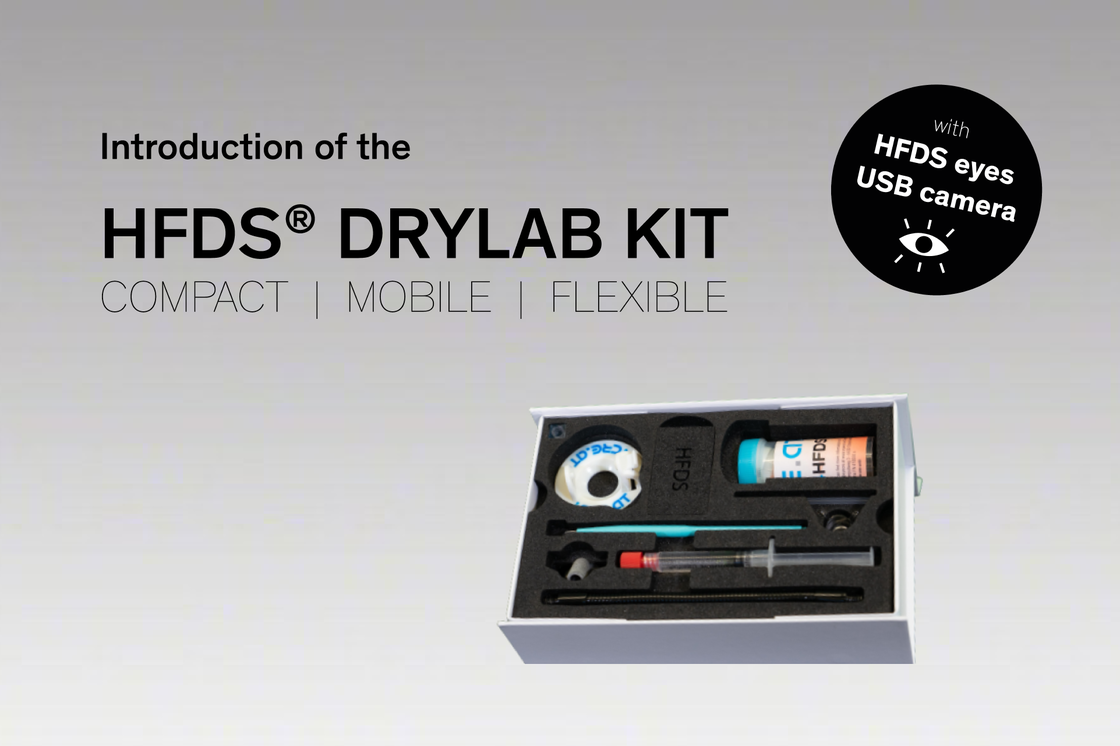 MAKING THE DIFFERENCE WITH EFFICIENT TRAINING METHODS

«We are currently experiencing an increasing development of new micro-invasive procedures in glaucoma surgery. An essential prerequisite for an excellent postoperative result and sufficient pressure reduction is not only the procedure itself but, above all, safe and competent handling. The HFDS DryLab KIT makes it possible to efficiently train the established "High Frequency Deep Sclerotomy" method to achieve optimal patient results with a swift learning curve.»

Ass. Prof. Dr. Robert Kromer

nordBLICK Eye Clinic, Germany

MAKING THE DIFFERENCE WITH USEFUL AID

«The HFDS Drylab Kit and the associated artificial eyes are a very useful aid for the inexperienced and untrained HFDS user. Visualization of the chamber angle, positioning of the HFDS tip and application can thus be practiced without risk.»

Dr. med., F.E.B.O. Lutz Blomberg

Augenzentrum Hildesheim-Alfeld, Germany

MAKING THE DIFFERENCE WITH THE HFDS DRYLAB KIT

«This DryLab KIT works! This is the first time that an artificial eye model really enables surgeons, who are new to this technique, to realistically experience and practice the procedure to be ready to perform HFDS on patients after this training.
The positioning of the eye and the visualisation of the angle and trabecular meshwork are very, very close to the human anatomy.»

Dr. Florian Sutter

Augenklinik Herisau and Appenzell, Switzerland
First impression of the HFDS DryLab KIT
What is your benefit of drylabs?
Katarzyna Zimmer
Wroclaw Medical University, Poland
Your first impression about the HFDS DryLab KIT?
Glaucoma surgery
In the treatment of glaucoma, Oertli's HFDS ab interno MIGS technology provides excellent long-term results.
Instruments for glaucoma surgery
Learn more about the instruments for glaucoma surgery.