Fast, safe and intuitive
As a multifunctional surgical platform for cutting-edge eye surgery, the Faros is a perfectly developed highlight in surgical technology. Yet, cutting-edge complex technology does not have to be complicated to operate. On the contrary: the Faros excels by its consistent overview and high application comfort, everything about it is clear and simple. This makes operation comfortable, understandable and safe for OR personnel and surgeons.
In addition, the surgical platform is ready for action incredibly quickly: only 7 seconds after it has been switched on, it is ready for action. Thanks to this advantage, efficiency is considerably increased in the OR – and it is not least because of this efficiency that costs are saved as well.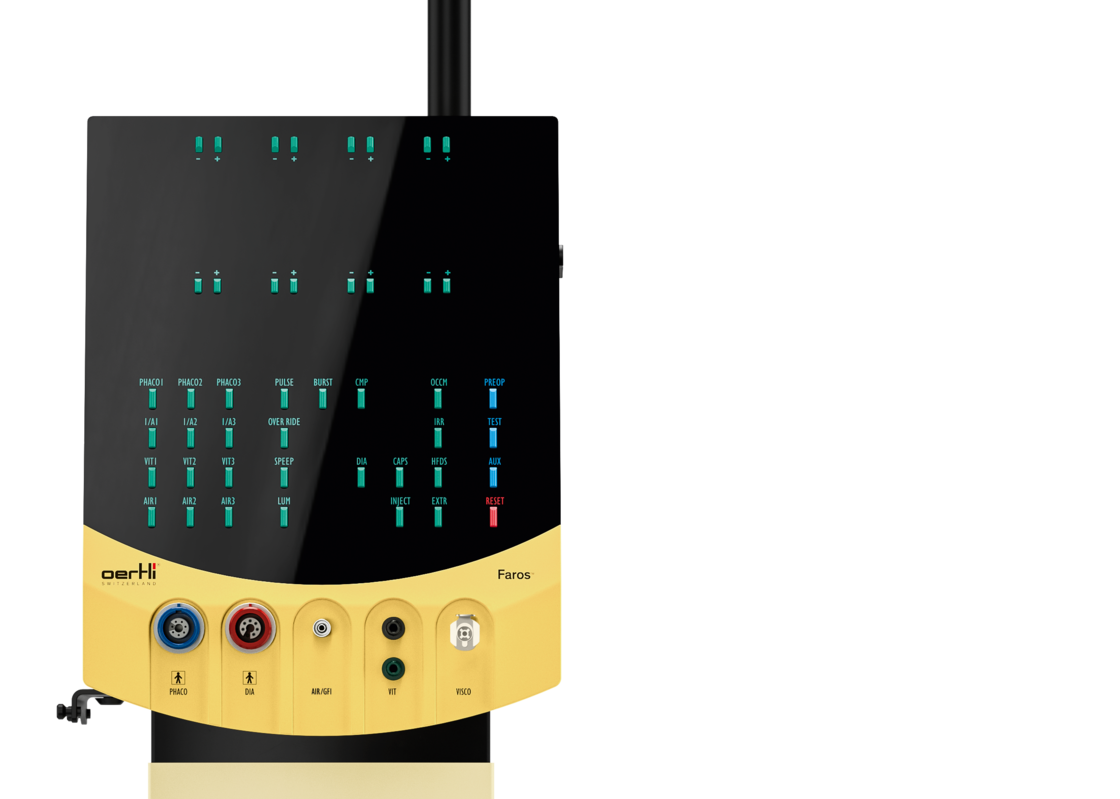 Connections
Most instrument connections are easily accessible from the front. This way, preparation for surgery is additionally facilitated and accelerated.
Control panel
The bright displays of the control panel are distinct, very well readable and inform the surgeon precisely of surgical values and settings. The operating buttons are arranged in a clear way and always have the same function, which you can be instantly activated by key pressure. In the ParaProg background programme, a large number of functions can be individually stored for each surgeon and surgical technique. Programming for up to 50 surgeons is possible.
Instrument table
The optional instrument table (28 x 30 cm) can be fixed at any position you like. If you do not need the table, it can easily be folded in sidewise in hardly any time.
Pedal
The dual-linear pedal of the Faros is the reliable control unit for surgeons; it is versatilely programmable and intuitively controllable. You will find more information on the high-performance pedal of the Faros here.