CATARHEX 3
MAKING THE DIFFERENCE WITH MAXIMUM MOBILITY
CATARHEX 3
The Oertli surgical platform CataRhex 3 impressively demonstrates that great platforms can sometimes be very small. With hitherto unachieved compactness and a lightweight of 11 lbs, the CataRhex 3 device is consistently geared to mobility and portability – without making any compromises on performance. easyPhaco technology ensures safe and efficient emulsification. Thanks to the HF capsulotomy tip, capsulorhexis has become incredibly easy. In the I/A mode, CortexMode ensures even greater safety. A compressor has been integrated for anterior vitrectomy.
Make the difference – with the CataRhex 3 by Oertli.
MAKING THE DIFFERENCE WITH ABSOLUTE FREEDOM

«My decision to use an Oertli CataRhex 3 was made easier by the fact that I wasn't tied to any specific intraocular lens rebate program. I am free to use any design lens without obligations or expectations of volume from any one company.»

Aaron Waite MD

Waite Vision Eye Centre, Lehi, Utah, USA

MAKING THE DIFFERENCE WITH UNIQUE VERSATILITY

«The best fluidics and versatility compared to other technologies. My professional life has changed since I started using Oertli.»

Dr. Fernando Aguilera

Instituto de Ojos, Mexicali, Mexico

MAKING THE DIFFERENCE WITH REMARKABLE CHAMBER STABILITY

«After using the CataRhex 3 for more than 5000 cataract cases, my opinion is: the anterior chamber is really stable, can be used for any grade of cataract, safe for cornea endothetial, faster visual recovery, and very ideal for World Vision 2020 program. Moreover, the consumables and the maintenance of the machine are economical. It's a truly mobile phaco machine.»

Dr. Rezaldi Pratama

Ichsan Medical Centre Hospital Bintaro, Tangerang Selatan, Indonesia

MAKING THE DIFFERENCE WITH MAXIMUM PERFORMANCE

«CataRhex 3 is the safest high performance phaco machine ever invented, yet it's the smallest. Brilliant!»

Dr. Indra Syarief

Rumah Sakit Ibu dan Anak Zahirah, Jakarta Selatan, Indonesia

MAKING THE DIFFERENCE WITH STRONG CONFIDENCE

«Until now I have strong confidence in the Oertli phaco machine regarding the power, holding strength and anterior chamber stability. The six-piezzo phaco handpiece remains cold throughout the procedure. This machine is portable, lightweight and versatile for use in mass eye-camp cataract surgery and performs well at any site.»

Dr. Vidyapati Mangunkusumo

Jakarta Eye Center, Menteng, Jakarta, Indonesia

MAKING THE DIFFERENCE WITH EXCELLENT FLUIDICS

«Wonderful machine. Excellent fluidics. Oertli CataRhex 3 never disappoints me whatsoever dense cataract it is.»

Dr. Naveed Ahmed Qureshi

Al-Shifa Trust Eye Hospital, Rawalpindi, Pakistan

MAKING THE DIFFERENCE WITH GREAT RELIABILITY

«Very good machines. Compact, efficient and very reliable.»

Dr. Georges Saadeh

«Very good machines. Compact, efficient and very reliable.»

MAKING THE DIFFERENCE WITH CONSISTENT STABILITY

«I have been using the CataRhex 3 for the past years in most of my cataract cases. I found it satisfactory and I am really happy with the effectiveness in all kinds of cataracts. Stable, reliable and effective.»

Dr. Ayman Mdanat

Ammon Eye Center, Amman, Jordan

MAKING THE DIFFERENCE WITH IMPRESSIVE SIMPLICITY

«As running three different OR teams, I need CataRhex 3 platforms, that all my teams can easily and efficiently rely on. Still what impresses me the most, is using the Oertli easyTip. Specially, in stony hard cataract cases what we handle in Upper Egypt.»

Dr. Lotfy Girgis Abdalla Eshak

Sohag Teaching Hospital, Sohag, Egypt
Small platform, great performance
The CataRhex 3 by Oertli is a consistently compact and portable surgical platform for cataract surgery. The whole load of Oertli's innovative power is hidden in an impressively small housing. The perfectly precise flow control, the powerful performance and the high user-friendliness of the CataRhex 3, make it the ideal device in eye surgery – in any situation anywhere.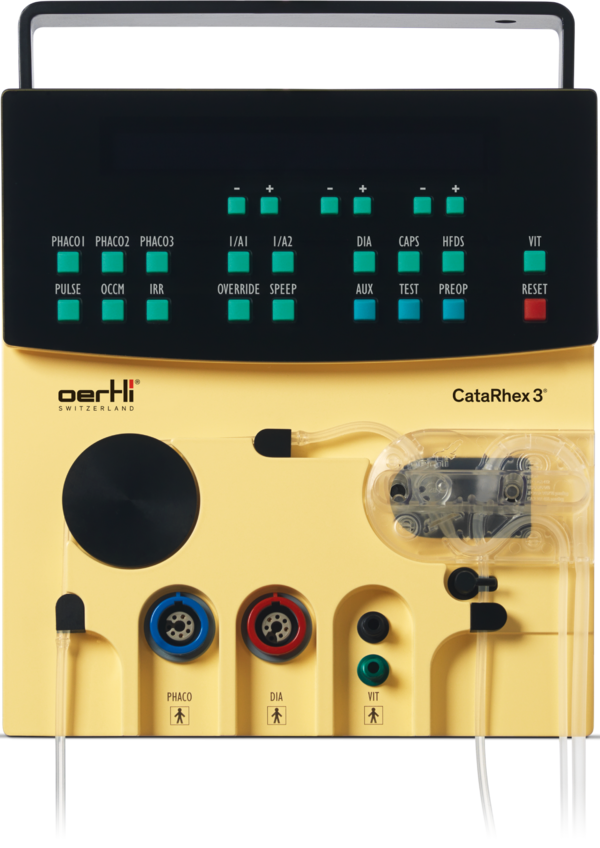 Fluidics – perfectly used
That it is for good reason Oertli is considered the innovative leader in eye surgery when it comes to making best use of fluidics and physics, is proved by the CataRhex 3 as well. The fluidics concept works with physical laws in a consistent way and makes additional software manipulations unnecessary. Nor is the CataRhex 3 device dependable on complicated electronics and sensor systems. Thanks to the perfect flow control of the peristaltic principle, the CataRhex 3 develops incredible precision and tremendous power, with easyPhaco in phaco emulsification, and in I/A and anterior vitrectomy. The flow can be controlled at steps of 0,1ml. With the innovative CortexMode, the I/A vacuum can be built up instantly, and the flow can nevertheless be precisely limited. The vacuum sensor integrated into the tubing system ensures reliable monitoring.
more about fluidics
The multifunctional pedal
The strong multifunctional pedal of the CataRhex 3 enables reliable and precise steering and control of the system by making simple foot movements. The pedal is waterproof, requires very little space, and only weighs 5.5 lbs. It can easily be moved aside with the foot and ensures fatigue-free operation.
more about the pedal
Precise flow control
The flow control of the peristaltic pump of the CataRhex 3 allows for perfect control and absolute precision. Vacuum build-up happens in an incredibly short time. In their finest form, flow and vacuum then become a dynamic tool allowing for incredibly fast and precise surgery in the anterior segment.
more about the pump system
easyPhaco technology
By making use of fluidics technology, easyPhaco enables immediate aspiration of the lens material and ensures perfect followability. easyPhaco provides unsurpassed chamber stability, efficient fragment aspiration and perfect emulsification. The unique design of the tips ensure unsurpassed chamber stability, while at the same time, incredibly high holdability can be felt. Aspiration of fragments runs efficiently and without any repulsions. Due to its distinct manufacturing quality, the phaco handpiece is incredibly robust and durable.
more about easyPhaco
Simple and safe operation
Especially in unusual situations or under pressure of time, it is essential that eye surgery can be performed simply and efficiently. That is why the surgical platform CataRhex 3 has been consistently geared to user-friendliness and does without complicated menu navigation. Entries and commands can be easily performed via pleasantly tangible keys. Each of the clearly arranged operating buttons always has the same function, which can be activated instantly by key pressure. This makes sure that – when it has to go quickly – it actually goes quickly.
more about the operation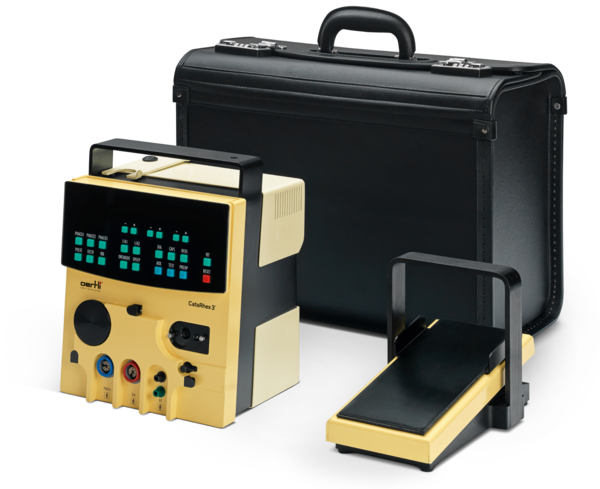 Accessories of unique quality
As all Oertli devices, the CataRhex 3 surgical platform is a closed system that does not only comprise perfectly matching instruments but also tailor-made device accessories. The optional infusion pole and the easily mountable instrument table make the CataRhex 3 a flexible surgical platform. And, the both handy and elegant carrying case ensures easy and comfortable transportation of this mobile device.
Instruments
With the CataRhex 3, everything that matches has come together. This particularly applies to the instruments, which have been perfectly integrated into the surgical system. The hand pieces of high-quality titanium are ergonomic master accomplishments that demonstrate tailor-made perfection in every respect. And, easyPhaco is a success story for itself.