FAST, SAFE AND INTUITIVE
As an all-in-one surgical system for cutting-edge eye surgery, the OS 4 is a complex masterpiece of surgical technology. This, however, does not mean that the surgical platform is complicated to operate. The contrary is true: everything about the OS 4 is clear and simple. This makes operation comfortable, understandable and safe – for both OR personnel and surgeons. The operating platform is ready for start extremely quickly thanks to its own software technology. Following a switch-on time of about 5 seconds, the system is ready for start. This makes changeover between surgeries very short. The OS 4 perceptibly enhances performance in the OR, and this efficiency reduces costs as well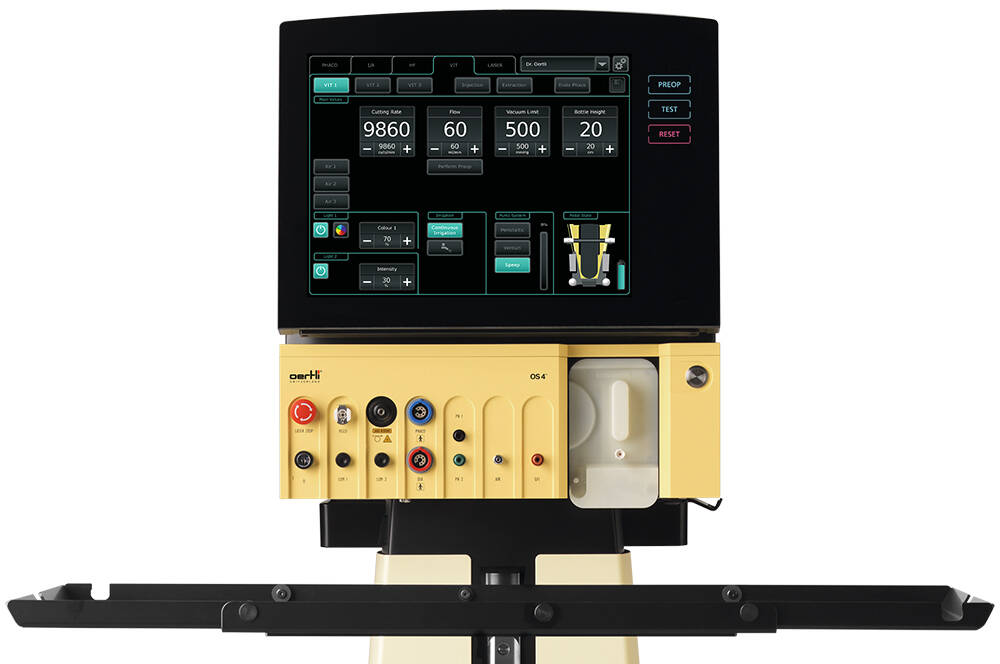 Touchscreen
The no-frills 15-inch touch screen with a high-quality glass front directly leads the eye to the right function. The graphic user interface is easy, user-friendly and provides for absolute stability in operation. Surgeons and OR personnel are immediately in focus and can master functions intuitively within seconds.
Voice confirmations
User-friendly voice confirmations in five individually adjustable languages (English, German, French, Italian, Spanish) ensure focused and autonomous work throughout the entire surgery. The surgeon always retains full control over the settings. Acoustic laser protection signals ensure additional operational safety for the entire surgical team.
Connections
The user-friendliness of the OS 4 already starts with the preparation for surgery. All connections at the front are at the same operational height and easily accessible. All instruments can be plugged in from the front easily thanks to unmistakable coding. The cassette inserts itself gently into the device, which is ideal for operation in the sterile field.

Instrument table
The optional instrument table (80 x 35 cm) can be installed in any desired position. When not in use, the table is quickly folded away and can be stored in a space-saving manner at the side.
Pedal
The wireless and dual-linear pedal of the OS 4 is the reliable control unit for surgeons; it is versatilely programmable and intuitively controllable. It comes close to an ankle joint that absorbs all movements of your foot in a fatigue-free manner. You will find more information on the high-performance pedal of the OS 4 here.