MAKING THE DIFFERENCE WITH UNIQUE ADVANTAGES

«HFDS offers three unique advantages in glaucoma surgery.
First, in about 70% of cases no postoperative treatment with medication is required. The second and biggest advantage in my opinion is that trabeculotomy and trabeculoplasty can be replaced by HFDS. Third, HFDS and phaco act additively and thus an IOP reduction of up to 13 mmHg can be achieved.»

Dr. Gonzalo Murillo Azcarraga

Instituto Privado de Oftalmología La Paz, Bolivia

MAKING THE DIFFERENCE WITH A MODERN GLAUCOMA METHOD

«Thanks to the modern HFDS method from Oertli, I am able to work quick and safe with little effort. It is also a good alternative to implants or filter surgery. The result speaks for itself - many patients are well regulated even after months without glaucoma drops.»

PD Dr. med. Hans-Joachim Hettlich

Augen Praxisklinik Minden, Germany

MAKING THE DIFFERENCE WITH EXCELLENT LONG-TERM RESULTS

«HFDS convinces me because the procedure is very easy to perform, highly controllable and with few complications. Thanks to HFDS, excellent long-term results are achieved, resulting in fewer follow-up treatments for patients.»

Dr. med., F.E.B.O. Lutz Blomberg

Augenzentrum Hildesheim-Alfeld, Germany

MAKING THE DIFFERENCE IN GLAUCOMA SURGERY

«For me, HFDS is an easy to apply MIGS solution, which convinces not only because of the fast rehabilitation post-op. High frequency diathermy is used to reduce the outflow resistance and shows excellent eye pressure reduction. HFDS can be excellently combined with cataract surgery.»

Prof. Bojan Pajic

Eye Clinic Orasis, Reinach, Switzerland
HFDS® for modern MIGS surgery
HFDS stands for High Frequency Deep Sclerotomy. In micro-invasive glaucoma surgery (MIGS), HFDS creates direct access from the anterior chamber to the Schlemm's canal and further into the sclera. The resistance of the trabecular meshwork is thus bypassed. The HFDS glaucoma tip is inserted through 1.2 mm paracentesis and, by means of diathermy output, it creates six small sclerotomy pockets in the iridocorneal angle, ensuring improved outflow of aqueous fluid.
HFDS can be used individually and can also be ideally combined with cataract surgery. HFDS is characterised by a very short intervention time. Bleb formation is prevented, and so is fibroblast movement to the sclerotomy. Moreover, there are no corneal scars. Oertli's High Frequency Deep Sclerotomy boasts excellent long-term results. If required, a further HFDS intervention can be made to optimise results.
Advantages of HFDS®
Ideal in combination with cataract surgery or as individual application
Very short intervention time
Excellent long-term results
No bleb-formation, no corneal scars
Surgery can be repeated
Very low complication rate
Instruments
Diathermie hand piece, reusable
VE201710
Diathermy handpiece, long, reusable
VE201712
Diathermy handpiece, short, reusable
HFDS glaucoma tip, reusable
VE201751
HFDS glaucoma tip, reusable
What is HFDS®?
HFDS (High Frequency Deep Sclerotomy) is the implant-free MIGS solution for glaucoma treatment. But what exactly is HFDS? This video explains in which cases the HFDS procedure is used and which instruments are applied.
The HFDS® procedure
The HFDS (High Frequency Deep Sclerotomy) procedure is an implant-free MIGS procedure to lower intraocular pressure by reducing the outflow resistance of the aqueous humour. In this animation, all surgical steps of the HFDS procedure are explained.
See HFDS® in application now
REDUCTION OF THE IOP
Clinical studies confirm a long-term significant reduction in the IOP with a considerable reduction in the number of antiglaucoma medication (AGM) [1]. Together with the low complication rates, HFDS is a safe and efficient glaucoma procedure [1, 2, 3].
[1] B. Pajic, B. Pajic-Eggspuehler, and I. Haefliger, "New minimally invasive, deep sclerotomy ab-interno surgical procedure for glaucoma, six years of follow-up," Journal of glaucoma, vol. 20, no. 2, pp. 109–114, 2011, doi: 10.1097/IJG.0b013e3181dddf31.
[2] B. Pajic, Z. Cvejic, K. Mansouri, M. Resan, and R. Allemann, "High-Frequency Deep Sclerotomy, A Minimal Invasive Ab-interno Glaucoma Procedure Combined with Cataract Surgery: Physical Properties and Clinical Outcome," Applied Sciences, vol. 10, no. 1, p. 218, 2020, doi: 10.3390/app10010218.
[3] Kaweh Mansouri, M.D., M.P.H., A Multicenter Prospective Study of High-Frequency Deep Sclerotomy (HFDS) in Open-Angle Glaucoma: 3-Year Outcomes: Manuskript; UNPUBLISHED DATA.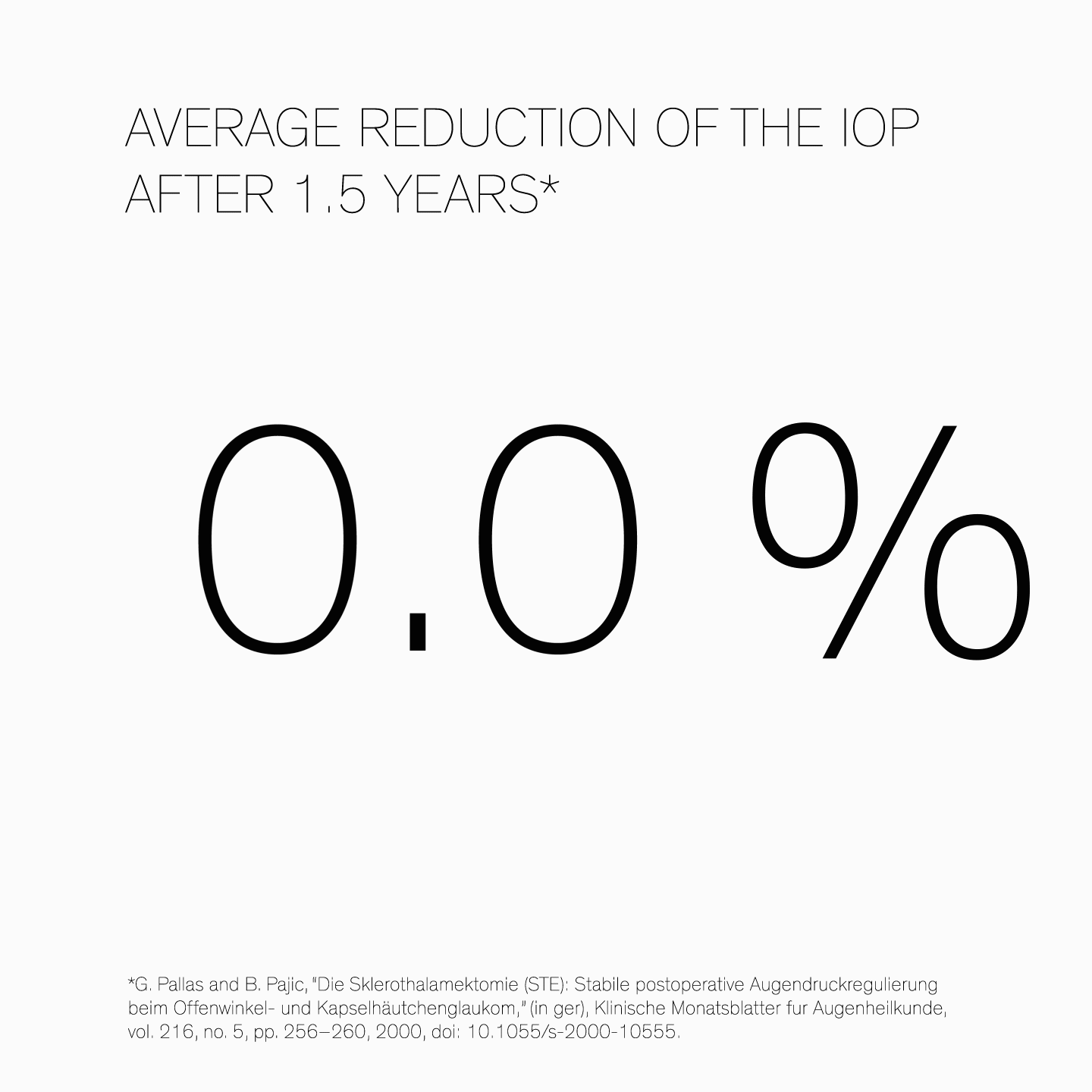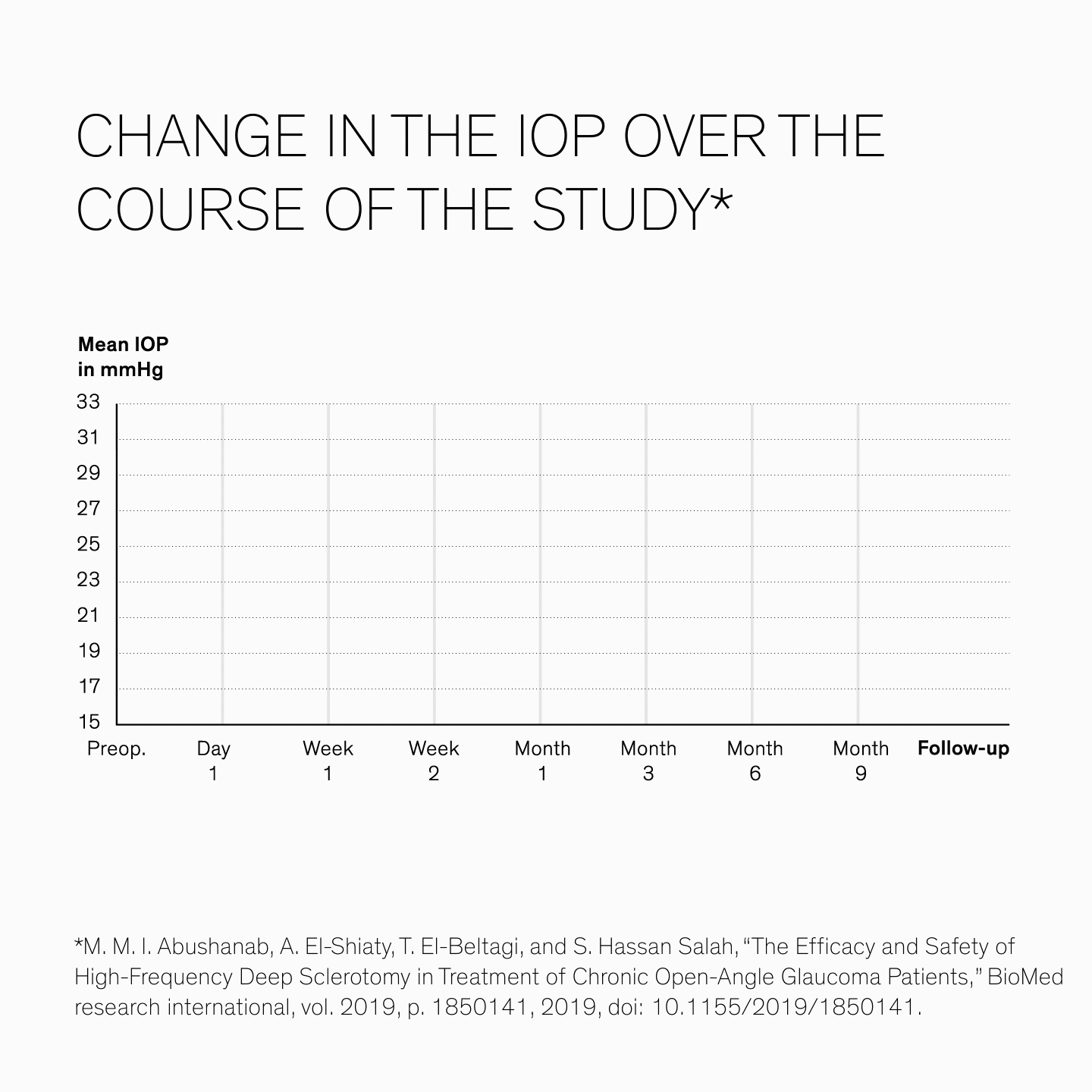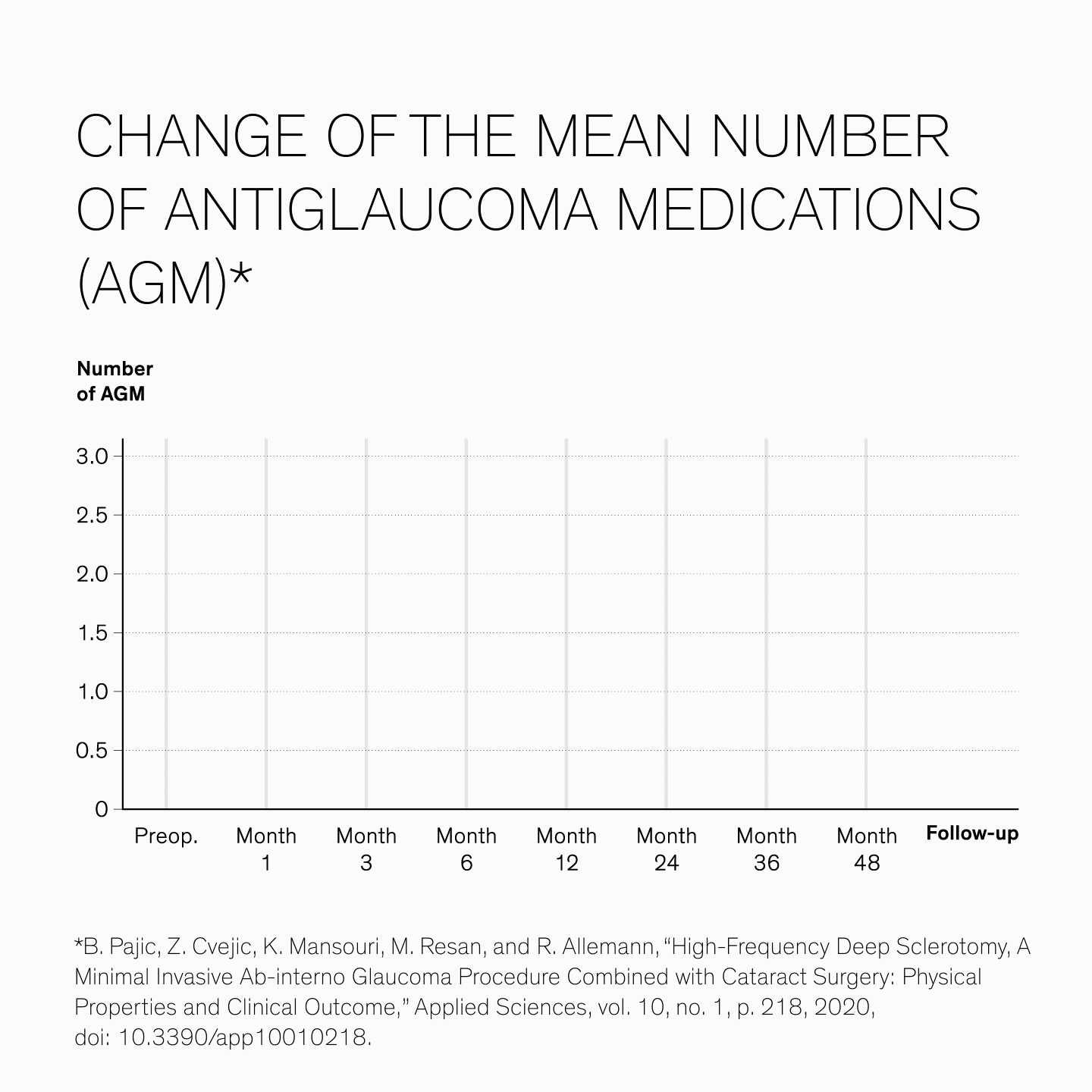 Recent studies & postoperative treatment
With HFDS, a reduction in intraocular pressure is already noticeable in the first few days after the operation. In the following video you will learn why you do not need pressure-reducing eye drops and how the reduction in intraocular pressure is measured using the latest studies.
What do experts say about HFDS®?
The HFDS DryLab KIT
With the compact, mobile and flexible training tool, we provide a more impactful introduction into HFDS than ever before.
Cataract surgery
Thanks to Oertli innovations such as easyPhaco and HF capsulotomy, cataract surgery can be performed more quickly, safely and calmly than ever before.
Vitreoretinal surgery
In vitrectomy surgery, the OS 4 brings about superb results thanks to the well-thought-out fluidics concept and innovative instruments.